Regular price
Sale price
$59.95 USD
Unit price
per
Sale
Sold out
Low stock
60 Days Money Back Guarantee
Free Shipping & Ship From USA
Returns + Exchanges
*Ships from our US warehouse. *Order Handling Time 1 Day.
Share
View full details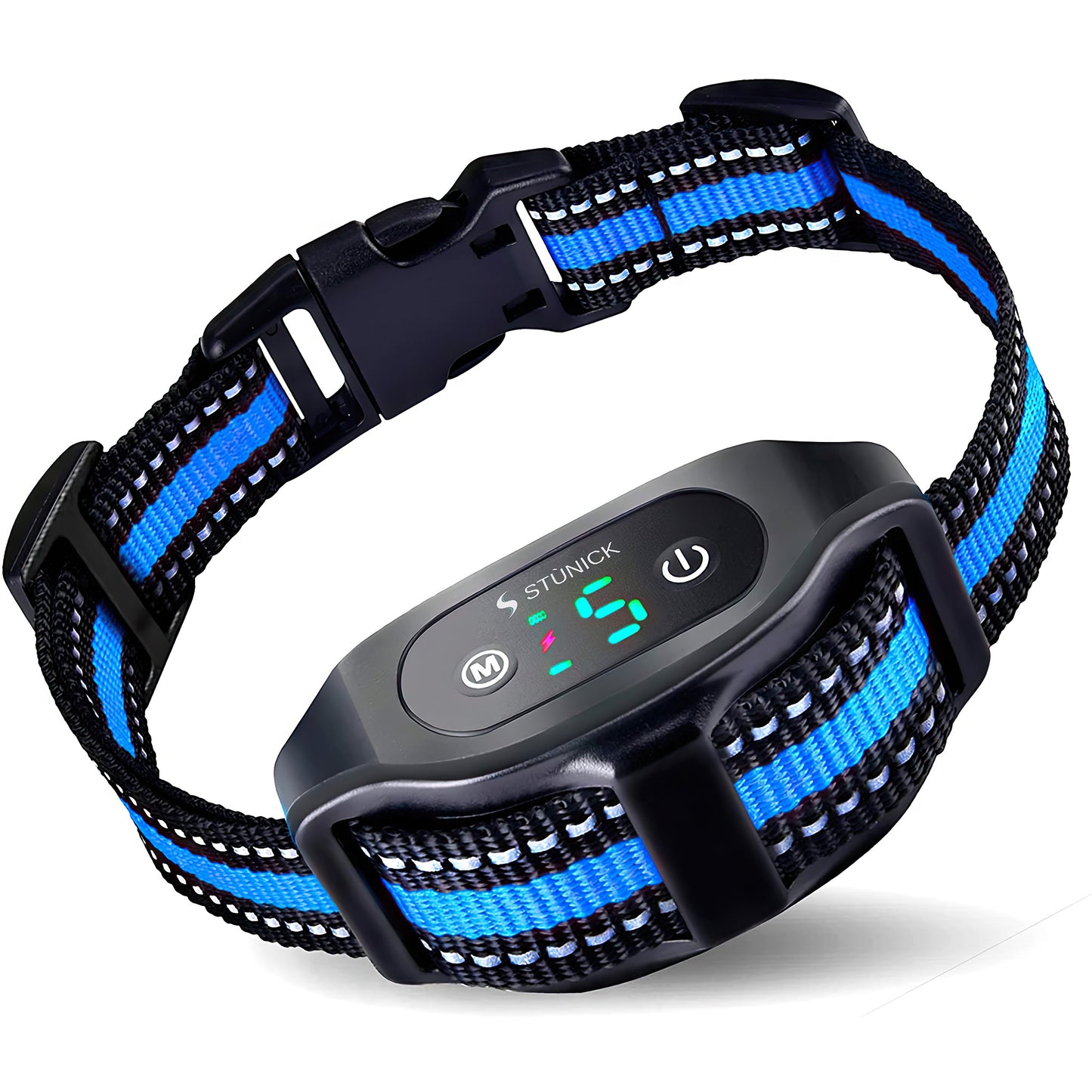 STÙNICK Dog Bark Collar
🐾
🐾 An automatic anti-barking collar that creates a harmonious environment for you and your pet. Specifically designed for large and huge dogs 🐶, this shock collar offers diverse modes and indicators to enhance training effectiveness.
Mode Setting and Indicator:

No Shock Mode: Press the "M" Button for a green icon, indicating no shock. This mode triggers beeps and vibrations upon detection, offering a milder, humane training approach. ✅
Shock Mode: Press the "M" Button for a red lightning icon, activating the shock collar. Adjust 5 sensitivity levels displayed on the screen to suit various situations. The collar employs beeps, vibrations, and adaptive shock intensity to effectively control barking. A "Protection Mode" engages for 2 minutes after 7 consecutive triggers. ⚡
Effective Modes for Your Dog: Choose from sounds, vibrations, or shocks based on the training needs. 🔊📳⚡
Intellectual Identification:
 The STÙNICK collar automatically discerns your dog's barks and filters out other noises, preventing false triggers. 🐕🔍
 Behavior Correction: STÙNICK aids dog training and behavior correction for medium, and large dogs. 🐾📚
Skin Protection: The conductive cover safeguards dogs' skin and coats by preventing direct contact with metal points. 🛡️
 Diverse Charging Options: Charge with a versatile USB cable using various sources like PCs or power banks (5V/2A). 🔌🔋
Rechargeable and Long-lasting: The built-in battery is rechargeable, lasting long hours after a 3-hour full charge. 🔋⌛
Adjustable Size and Length: The collar's adjustable strap ranges from 26 inches, suitable for large, medium. The collar length is adaptable within 5-10 inches (extra part can be trimmed). 📏🐶
Sensitivity Levels: The STÙNICK Bark Collar offers 5 sensitivity levels, catering to different environments:
Levels 1-3: Noisy surroundings like playtime.
Levels 2-4: Regular conversations.
Levels 3-5: Quiet scenarios such as sleep time or late evenings. 🔊🔇🌙
Recommended for dogs aged 6 months or older, weighing no less than 7 lbs. 🐾🐶
At our company, we take pride in our efficient order processing system. We process orders from Monday to Friday, ensuring that they are shipped within 24 hours of being placed.
For orders placed on Fridays after 10 AM (PST) or during the weekend, rest assured that they will be promptly processed on the following Monday, depending on order volume and any holidays that might affect our operations. Our team is dedicated to providing quick and reliable service to get your packages on their way as soon as possible.
SHIPPING OPTIONS
Domestic (USA)
| Method | Processing Time | Shipping Time | Price |
| --- | --- | --- | --- |
| Free Shipping | 1 Business Days | The total delivery time, which includes processing and shipping, ranges from 2 to 10 business days | Free |
| UPS 2nd Day Air | 1 Business Days | Shipping time is 2-5 business days after ordering | 19.95$ |
| UPS Next Day Air | 1 Business Days | Shipping time is 1-3 business days after ordering | 39.95$ |
FROM WHICH LOCATION DOES MY ORDER GET SHIPPED?
Your order will be shipped from our distribution centers:
Compton 19201 California US,
Roanoke 76262 Texas US ,
Edison 08837 New Jersey US
SAVINGS WITH FREE SHIPPING ON ELIGIBLE ITEMS
We have special promotions that provide complimentary shipping for the majority of US orders within the contiguous 48 states, though there are a few exceptions.
Additionally, we offer free return shipping for all orders within the United States, including those from all 50 states
ORDER CHANGES/CANCELLATIONS
You have the flexibility to make changes or cancel your order until 10AM PST on the day following your order placement.
To ensure a smooth transaction, kindly review and verify all shipping details before finalizing your purchase. Within 10-15 minutes of placing your order, you will receive an email confirming the details.
If you need to cancel your order or notice any incorrect information in the confirmation email, please reach out to us immediately. Provide your order number or the email used during the purchase along with the correct information.
Please note that once you receive a shipping notification, which includes the label being printed, we won't be able to accommodate any modifications or cancellations to your order. Be sure to check your Junk/SPAM folder for any shipping notifications.
DELIVERY GUARANTEE
Our commitment is to deliver your shipment within the specified timeframe, but please be aware that unforeseen circumstances beyond our control may cause delays. It's important to note that shipping and handling costs, along with duties or taxes, cannot be refunded in such situations. 
Delays may be caused by factors such as adverse weather conditions, natural disasters, civil disruptions, holidays, carrier interruptions, as well as delays caused by customs or local government authorities.
REFUSED PACKAGES
In the event that your package is declined or returned to us (marked as 'Return to Sender'), you will bear the responsibility for the return shipping expenses. Furthermore, declined packages may incur additional fees, which will be deducted from any eligible refunds after the package is successfully returned to our facility.
We kindly request that you refrain from refusing the package upon delivery. The United States Postal Service (USPS) imposes an additional fee on us for any declined shipment, and unfortunately, we are obligated to pass this fee along to you.
Works great
I bought it for my 14lb Chihuahua mix, put it on him and within minutes he didn't bark anymore and now we don't even need it on and he still won't bark. Just be CAREFUL with the settings, didn't realize one time it some how (most likely our child messed it the setting on it while it was on him) it was set to 5 and he barked and didn't stop because it hurt! So only use like setting 1-3.
Do not buy
This item says it is for puppies. Don't be fooled. It barely works for my 8 week old pit bull puppy. The price draws you in,but don't do it. The shock isn't enough to stop the barking. Spend more money, and get something worthwhile.
Stops barking
I love this collar so much! My dog barks at everything and it is nonstop. I put this on him and he barked once and stopped. Whenever he does bark, it's only once and he stops.
Useful training aid
Well made and easy to use. Dog started learning immediately.
Get the job done
Works well and controls my dogs behavior. Battery life is long and is a humane way to train your dog